A Tribute To My Mom
Where do I even begin with my sweet mom, Carmen? She was the best. A single mother who worked tirelessly to raise her three daughters to be strong, independent, successful women. A woman who always taught us the importance of helping others even though we had very little. A woman who after graduating from high school moved to the U.S. from Puerto Rico to seek work and a better life for herself. She was the life of every family party and was the first one to bust a move or start singing Christmas carols at her annual Christmas Eve parties. She was a great listener and mother figure to so many.
After my father abandoned us when my sisters and I were 6 months, 5 years, and 8 years old respectively, my Mami became not only our mother but our father too. In fact, we used to get her Father's Day cards as well as Mother's Day cards. She would always laugh and thought it was silly but she deserved to be celebrated both days as she was indeed both our mother and our father. Why shouldn't she be celebrated on both holidays right?!
Dancing the night away at my little sister's wedding.
Over the years, my father was never around. He didn't help my mom with child support, school clothes, college...nothing. He missed birthdays, Christmas', graduations, volleyball games, track meets, our engagements, our weddings...everything. The one person who was always there was my Mami. She supported our every goal and even when I wanted to work in the entertainment industry, I remember her saying, "I have no idea how to do it but I'll support you however I can." And that she did!
When I was 14 years old, I enrolled in John Casablancas Modeling School in Newton, MA (just outside of Boston). It was about an hour drive from where we lived and after a full day of work for her, we'd hop in the car, I would do my homework in the car, and mom would wait for me in the reception area while I took my class. She knew it was my dream and wanted to do everything in her power to help me get there.
At 17 years old, I decided to enter my first pageant as a way to reach my ultimate career dream of working as a host and actress. I decided to enter the Miss MA Teen USA pageant, and my mom drove me 2 hours each way to the closest pageant shop in MA so that I could get my pageant competition wardrobe. She only had a few hundred dollars that she could afford to help me out with so I worked, saved as much as I could, and raised the money I needed to pay for the entry fee, pageant gown, swimsuit, heels, and interview suit with help of local businesses who sponsored me. I ended up raising over $1000 and won the pageant on my first try with my mom's love and support!
I flew my mom out to Los Angeles and took her to the Zombieland premiere!
Over the years I saw my mom work two-three jobs simultaneously to provide for her daughters and give us a life that she didn't have growing up in Puerto Rico. If she or we wanted anything, we had to work hard for it ourselves. What an important lesson to learn at such a young age! I always tell my husband, even if we have all the money in the world, if we ever have kids, they must learn that they need to work for the things they have in life. It's a tremendous disservice to children to just give them everything simply because you can.
My big sister, Marisele's, Masters Degree graduation.
My little sister, Yaralia's, college graduation.
My mom, Carmen Cintrón, was born and raised in Puerto Rico. She was born on January 10th, 1953 in Juana Diaz, PR. As a child I spent many summer school vacations playing in the same neighborhood where my mom grew up. It was always important to my mom that her three girls (my older sis is Marisele and my younger sis is Yaralia) grow up knowing the Puerto Rican culture and she also ensured that we spoke fluent Spanish. In fact, Spanish was my first language even though I was born and raised in MA! I was in bilingual classes until fourth grade because we spoke only Spanish in our home.
MY WEDDING
Speaking Spanish at home was something that, at the time, I found useless because we lived in America but I 100% appreciated it later in life. I'll never forget the time when I was a teenager and told my mom, in Spanish of course, "Mami, you live in America and we speak English here! We need to get your English to sound better so why don't we practice more so yours can improve?" She responded with, "Well, you're Puerto Rican and should continue practicing Spanish because it's part of your culture." So, Spanish it was, LOL! You couldn't argue with Mamá Carmen! And, I must say, my Spanish comes in handy ALL THE TIME! When I graduated from college, I was actually offered two jobs because the companies needed more college grads that were also fluent in Spanish so they could communicate with international clients. I ended up competing and winning the Miss USA pageant so I didn't take either of those jobs needless to say. And speaking of Miss USA, Mami used to tell me how proud she is of me and my sisters, who reached a great level of success themselves in both life and their careers, I would follow up her sentiment by telling her that however proud of us she is of us she should be 100 times prouder of herself because we became the women we were because of her.
At the Boston Ballet's Nutcracker.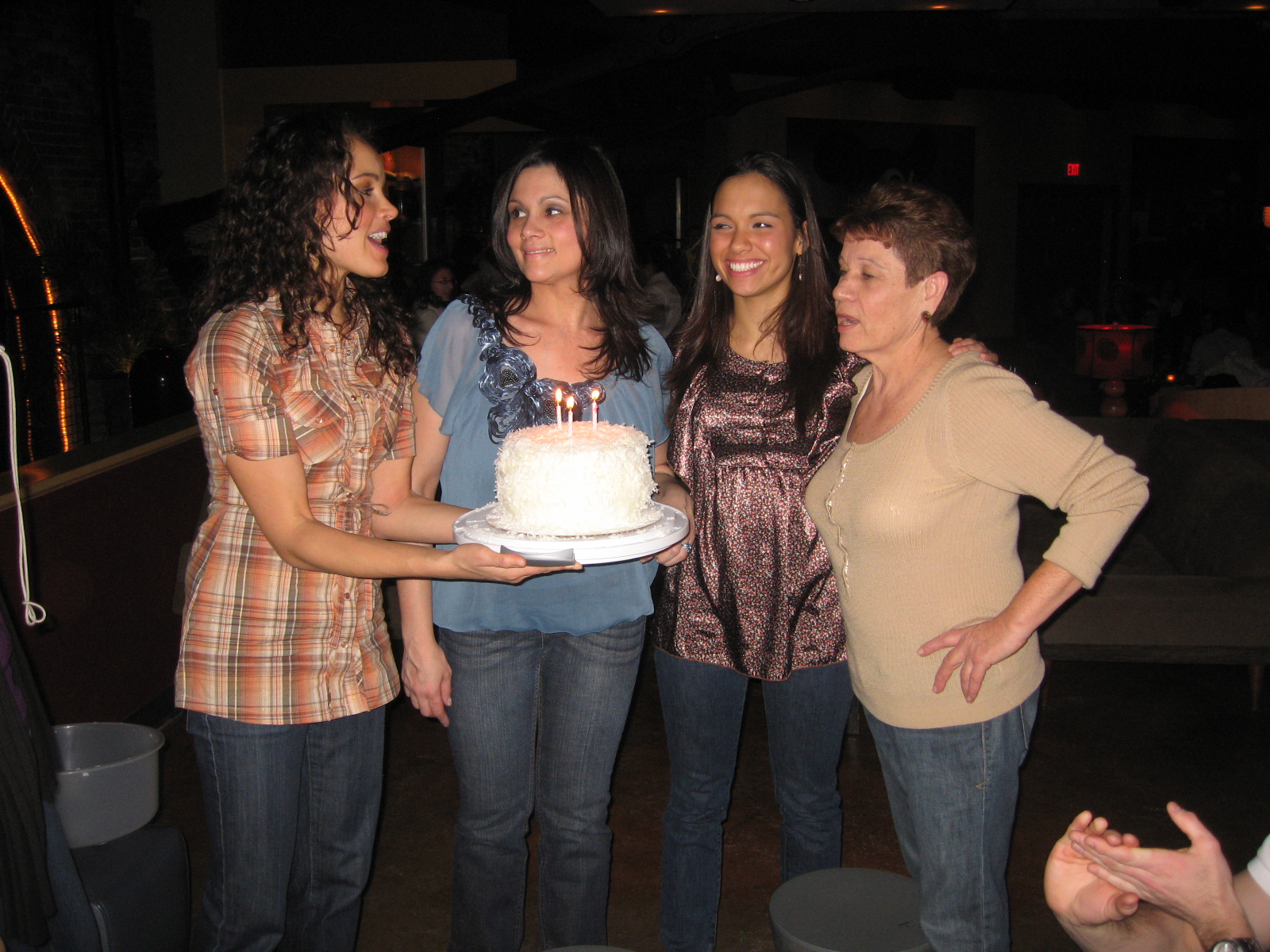 Marisele's birthday bowling party at Lucky Strike in Boston.
I hold a special place in my heart for single parents because I saw how much my mom sacrificed to be the best mom she could be. We may not have had much but there was always love and support. She could make a dollar stretch like nobody else could and we never went to bed hungry because of that.
At my wedding, Mami walked me down the aisle and when she gave my hand in marriage to Matt, she told us, "que sea para siempre" which means "may this be forever." Today, I'm thinking of her words a lot and know that my mom's legacy will live in our hearts forever. She passed away suddenly on Nov 19th, 2014 from a ruptured brain aneurysm that just a few days prior we found out she had. It was the saddest day of my life. Marisele, Yaralia and I were with mom holding her hand, saying The Lord's Prayer (in Spanish of course) and thanking her for everything she did for us as she took her last breath and went to Heaven to be with her parents. There's definitely a void in my heart that I feel will never get filled again. It's a pain like no other and I can't really describe it. This may sound silly because I continue to have so much love around me, but I felt like an orphan after my mom's passing. It was incredibly lonely even though I was never physically alone. It gets better with time but there are days/moments that feel like she passed yesterday.
I received an award at the Hispanic Heritage Awards and brought my mom on stage to dedicate the award to her.
My big sister, Marisele, mom, and I during a speaking engagement at my alma matter, Endicott College in Beverly, MA.
Today was especially tough for me. It was through blurred vision caused by my tears that I wrote this post but I wanted to do it for my Mami because she was an exemplary human being and extraordinary mom. I know there are many incredible moms and I send my love to you on this Mother's Day.
Mom rescued her sweet little Luna from a Los Angeles animal shelter during one of her last visits to see me in CA! Luna was her baby and she took her everywhere!
Thank you mama for teaching me so much, for showing me to love and give to others without expecting anything in return, for teaching me the importance of hard work, for all your sacrifices as a single mom, and for being the best mom a girl could ever ask for. Happy Mother's Day in Heaven.
Bendición Mami!
MAMA CARMEN BONUS!
Remember how I said she was the life of the party? So, here she is at one of her annual Christmas Eve parties dancing in the kitchen with my aunts and somewhat butchering a Spanish Christmas carol. This makes me laugh still! I recorded this on my phone and you can hear me saying "you guys don't know the words!" in Spanish, LOL! Click on the pic and enjoy a little taste of Mama Carmen's fun personality : )